International Liberty
I've written columns about wonky economic concepts such as "deadweight loss" and "public goods." Today's topic is "rent seeking," which is part of "public choice" and is described by Professor Alex Tabarrok of George Mason University.
To elaborate, here's a video from Professor Michael Munger from Duke University.
The basic message of both videos is that "rent seeking" occurs when interest groups manipulate the political system to obtain undeserved riches.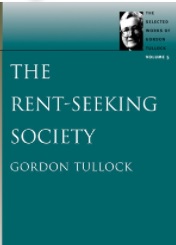 And there are all sorts of examples of policies that exist solely because interest groups get politicians to tilt the playing field – including trade barriers, farm subsidies, occupational licensing, and bureaucrat salaries.
As pointed out in the videos, these rent-seeking policies reduce prosperity.
But what's the origin of the term? In the modern era, it's often associated with Gordon Tullock, one of the founders of public choice…
View original post 503 more words