International Liberty
Most people have heard of the Laffer Curve, which shows that there is a non-linear relationship between tax rates and tax revenues (for instance, doubling tax rates won't produce a doubling of tax revenue because people and businesses will have less incentive to earn and report income).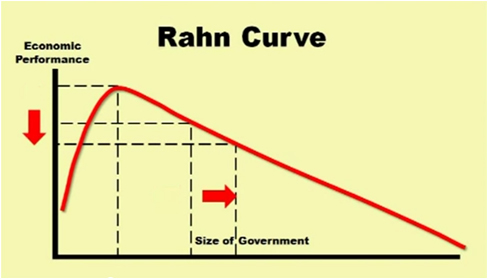 There's something similar on the spending side of the budget. I call it the Rahn Curve and it shows there is a non-linear relationship between government spending and economic performance.
The concept is not controversial, just like the concept of a Laffer Curve is not controversial.
What does trigger disagreement, however, is figuring out the shape of the curve, especially the growth-maximizing size of government (or, in the case of the Laffer Curve, the revenue-maximizing tax rate).
Much of the academic literature suggests that is maximized when government spending consumes about 20-plus percent of economic output.
View original post 443 more words