International Liberty
More than 10 years ago, I narrated this video showing how the United States benefited from spending restraint under both Ronald Reagan and Bill Clinton. Since today's topic is Clinton's policies, pay attention starting about 4:00.
If you don't have time to watch the video, I hope you will at least pay attention to this chart, which appeared near the end (about 6:00).
It shows what happened to domestic spending (entitlements plus discretionary) as a share of economic output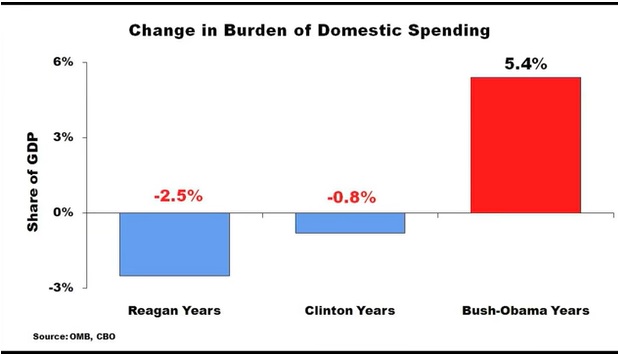 during the Reagan years, the Clinton years, and the 2001-2010 period under Bush and Obama.
Reagan was the runaway champion, but it's worth noting that the burden of domestic spending also declined during the Clinton years.
But it wasn't just that Bill Clinton was good on spending. Good things happened in the 1990s in other areas as well, especially trade.
In a column for the Wall…
View original post 353 more words