International Liberty
While capitalism is the only system to produce mass prosperity, I actually support free enterprise more because it is a moral system based on voluntary exchange. The various forms of statism, by contrast, are based on government coercion.
But non-coercion not the only moral reason to support capitalism. I also applaud that free markets penalize racism and sexism.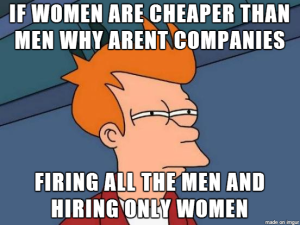 Simply stated, narrow-minded people are going to lose business to ethical competitors and forego income if they make choices based on animus rather than what makes economic sense.
This doesn't mean an end to racism and sexism, but it certainly suggests that systemic and pervasive discrimination is very unlikely without government intervention (such as the Jim Crow laws that created government-enforced racism).
This is why I'm naturally suspicious of the claim that there's a gender pay gap.
Mark Perry and Andrew Biggs of the American Enterprise Institute summarize the issue, pointing…
View original post 1,246 more words