International Liberty
I certainly don't intend to do this for everyone who has made it to the White House, but I have produced big-picture economic assessments of several presidents.
Today, let's go back farther in history and take a look at Woodrow Wilson.
At the risk of understatement, he did a very bad job. Indeed, it's quite likely that he ranks as America's worst president, at least when judging economic policy. His mistakes were either huge or disgusting.
Creating the income tax – The internal revenue code began when Wilson signed into law an income tax on October 3, 1913. The initial tax wasn't overly onerous – with a top rate of just 7 percent – but it predictably evolved into the punitive levy that currently plagues America.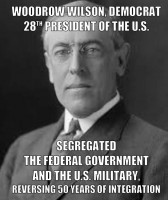 Creating the Federal Reserve – You…
View original post 1,806 more words