International Liberty
Let's look today at the wonky issue of "book income" because it's an opportunity to point out that there are three types of leftists.
Honest leftists who understand economics and recognize tradeoffs (I think of them as "Okunites").
Dishonest leftists who understand economics but pretend that tradeoffs don't exist (the "demagogues").
Leftists who have no idea what they're saying or thinking (I think of them as, well, Joe Biden).
I'm being snarky about the President because of this recent tweet, which contains a couple of big, glaring mistakes.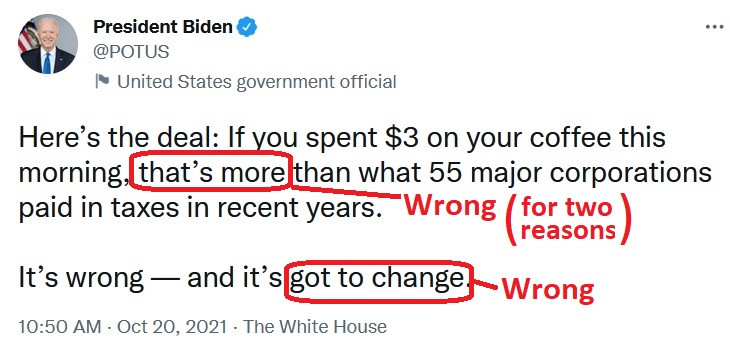 What are the mistakes (I'm not calling them lies because I don't think Biden has the slightest idea that he is wrong, much less why he's wrong).
The first mistake is that corporations pay a lot of tax (payroll tax, property tax, etc) even if they are losing money and don't owe any corporate income…
View original post 569 more words