International Liberty
If you're a policy wonk, you'll enjoy this history of how government regulation has hindered the development of telecommunications technology.
I want to focus on the part of the video, beginning about 30:00, which discusses "net neutrality." The interview with Professor Hazlett took place in 2017, at a time when there was lots of fighting over this issue.
The pro-regulation crowd claimed that net neutrality was needed to protect consumers from slow and expensive service. And they made all sorts of ridiculous claims about the Trump Administration's plans to get rid of the Obama-era regulation.
At the time, this tweet from the Democratic members of the U.S. Senate got a lot of attention.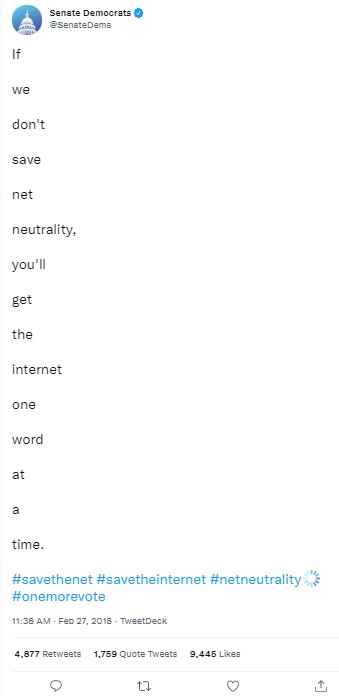 So what actually happened after net neutrality was repealed?
I suppose the first question to answer is:
Did..
…the…
…Internet…
…slow…
…to…
…a…
…crawl?
Not exactly. Robby Soave gives us the details in a…
View original post 302 more words