International Liberty
If you want visual proof of Chile's "improbable success," this chart tells you everything you need to know.
Thanks to free-market reforms in the 1980s and 1990s, growth exploded, Chile became the Latin Tiger and poverty plummeted.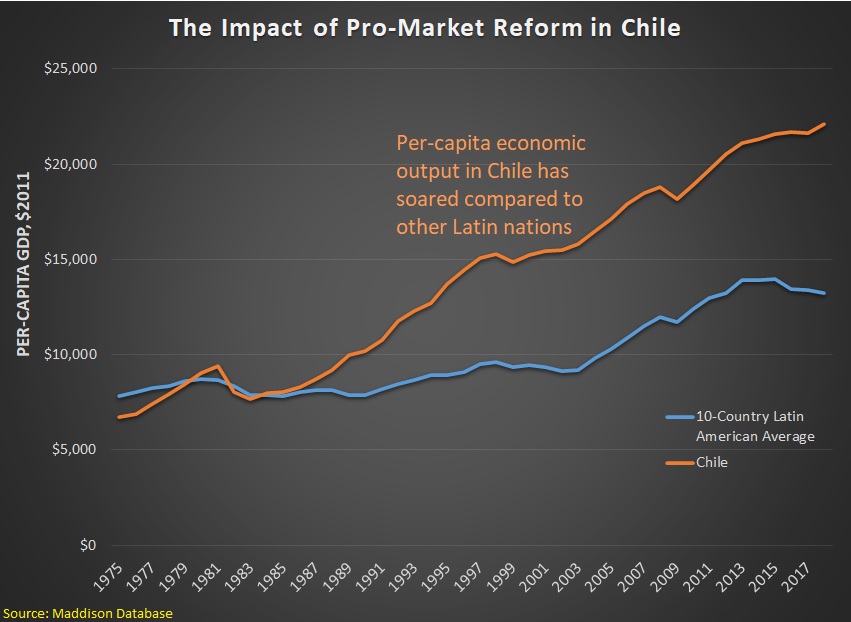 It's remarkable how quickly per-capita GDP has increased compared to the average of other major Latin American economies (Argentina, Bolivia, Brazil, Colombia, Ecuador, Mexico, Peru, Paraguay, Uruguay, and Venezuela).
Some folks on the left (including editors at the New York Times) bizarrely think Chile's "neoliberal experiment" has been a failure. Given their upside-down perspective, they probably think Venezuela is a smashing success.
But today's column is not about what's happened in the past. It's about what may happen in the future because of an upcoming presidential election.
Let's start with this article from the Economist, which expressed concern back in November that the first round…
View original post 1,146 more words