International Liberty
Does the United States have a market-based health care system or a socialist health care system?
That's not an easy question to answer.
Because of Medicare, Medicaid, and other government programs, taxpayers directly finance about 50 percent of overall health expenditures. Does that mean we have a 50-percent socialist system?
Once again, there's no easy answer.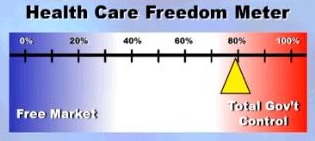 On one hand, Uncle Sam does not operate the hospitals and employ the doctors and nurses (like we see – often with horrifying consequences – in the United Kingdom).
But on the other hand, policies in Washington (not just Medicare and Medicaid, but also the tax code's exclusion for fringe benefits such as employer-provided health care) have replaced market forces with a massive third-party payer problem.
While there's no easy answer, my back-of-the-envelope guess from back in 2013 is that the US health system is 79 percent government and 21 percent…
View original post 331 more words